Interview published in Cote magazine, november 2020
The collective awareness as to the need to transform our economy so that it becomes sustainable is now a given. But there is often a long way from theory to practice. We met with Pierre-Loïc Caïjo, founder of Adiant Capital, an asset management company specialising in impact investing, for whom profitability rhymes with sustainability.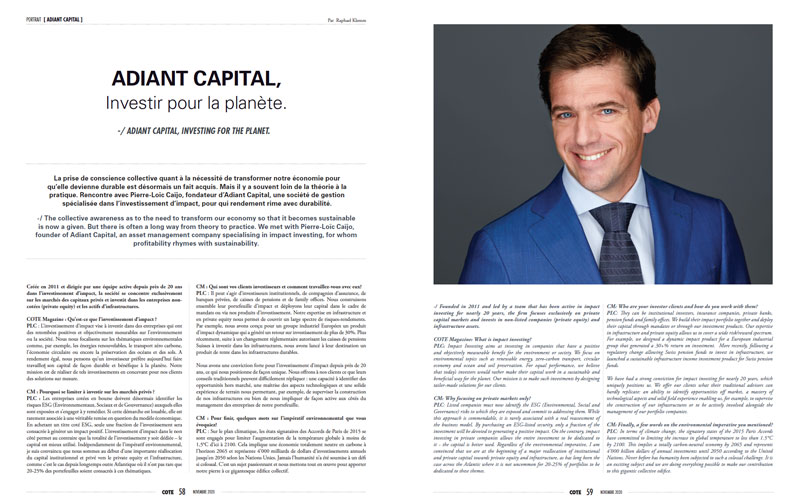 Founded in 2011 and led by a team that has been active in impact investing for nearly 20 years, the firm focuses exclusively on private capital markets and invests in non-listed companies (private equity) and infrastructure assets.
COTE Magazine: What is impact investing?
PLC: Impact Investing aims at investing in companies that have a positive and objectively measurable benefit for the environment or society. We focus on environmental topics such as renewable energy, zero-carbon transport, circular economy and ocean and soil preservation. For equal performance, we believe that today's investors would rather make their capital work in a sustainable and beneficial way for the planet. Our mission is to make such investments by designing tailor-made solutions for our clients.

CM: Why focusing on private markets only?

PLC: Listed companies must now identify the ESG (Environmental, Social and Governance) risks to which they are exposed and commit to addressing them. While this approach is commendable, it is rarely associated with a real reassessment of the business model. By purchasing an ESG-listed security, only a fraction of the investment will be devoted to generating a positive impact. On the contrary, impact investing in private companies allows the entire investment to be dedicated to it – the capital is better used. Regardless of the environmental imperative, I am convinced that we are at the beginning of a major reallocation of institutional and private capital towards private equity and infrastructure, as has long been the case across the Atlantic where it is not uncommon for 20-25% of portfolios to be dedicated to these themes.

CM: Who are your investor clients and how do you work with them?

PLC: They can be institutional investors, insurance companies, private banks, pension funds and family offices. We build their impact portfolio together and deploy their capital through mandates or through our investment products. Our expertise in infrastructure and private equity allows us to cover a wide risk/reward spectrum. For example, we designed a dynamic impact product for a European industrial group that generated a 30+% return on investment. More recently, following a regulatory change allowing Swiss pension funds to invest in infrastructure, we launched a sustainable infrastructure income investment product for Swiss pension funds.

We have had a strong conviction for impact investing for nearly 20 years, which uniquely positions us. We offer our clients what their traditional advisors can hardly replicate: an ability to identify opportunities off market, a mastery of technological aspects and solid field experience enabling us, for example, to supervise the construction of our infrastructures or to be actively involved alongside the management of our portfolio companies.

CM: Finally, a few words on the environmental imperative you mentioned?

PLC: In terms of climate change, the signatory states of the 2015 Paris Accords have committed to limiting the increase in global temperature to less than 1.5°C by 2100. This implies a totally carbon-neutral economy by 2065 and represents 4'000 billion dollars of annual investments until 2050 according to the United Nations. Never before has humanity been subjected to such a colossal challenge. It is an exciting subject and we are doing everything possible to make our contribution to this gigantic collective edifice.